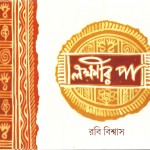 লক্ষ্মীর পা (Laxmir Paa)
রবি বিশ্বাস (Rabi Biswas)
Rs. 500
Young Folk Artist Rabi Biswas took the pain to search in seven hundred villages for the different versions of the story around Laxmi and painting the foot of Laxmi in Aalpana Folk Art Form. This book bears the mark of Abanindranath Tagore in representing texts and paintings of the rural women of West Bengal.
ISBN 9789380489414